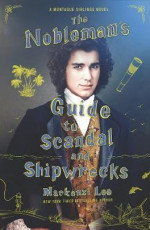 Return to the enchanting world of the Montague siblings in the finale to the New York Times bestselling and Stonewall Honor-winning series, featuring a teenage Adrian Montague as he desperately seeks the now adult Monty and Felicity-the older siblings he never knew he had.

The sole heir to his family's fortune, Adrian Montague desperately wants to be free-from his father's high expectations; the grief of losing his beloved mother; and the constant war being waged inside his mind. Adrian was diagnosed with hysteria at a young age and it's always been kept a secret. But when he has a breakdown at his engagement party, the public learns Adrian's worst fear: he might not be fit to run the Montague estate.

Thankfully, Adrian is given an opportunity to avoid the impending scandal: a trip to the Caribbean to claim the last of his mother's possessions. But along the way, Adrian discovers another secret lurking in his family tree. He is actually the youngest of three children-his sister Felicity and brother "Monty" went missing over a decade ago. Now Adrian has the chance to find them and offer to pass the estate back to the rightful heirs.

Adrian expects to win his long-lost brother over with the promise of wealth and inheritance, while dreaming of a quiet life where Adrian doesn't feel like a burden to anyone. But when Adrian finally tracks him down, Monty refuses to return home. The only thing he can convince Monty of is to accompany him across the ocean as an act of tribute to their mother, hoping that during the voyage he can persuade Monty into taking the weight of inheriting the estate off his shoulders.

When they reach their destination, Adrian and Monty find something hidden in their mother's belongings-a clue pointing to a valuable artifact that could potentially save the Montague siblings from a curse that threatens their lives. But to retrieve it, they must chase an infamous myth through the wild sugar fields of Barbados to the haunting streets of New Orleans to mysterious uncharted islands off the edge of the map.